http://www.theguardian.com/culture/2014/sep/05/exhibit-b-is-the-human-zoo-racist-the-performers-respond
The show, which displays live black actors, has been targeted by protesters, but the actors say that it is a powerful depiction of racism past and present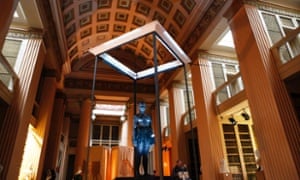 Last week, the Guardian reported that Exhibit B, which received five-star reviewswhen it was staged in Edinburgh last month, has been targeted by campaigners protesting against its forthcoming run at London's Barbican Centre.
Directed by the white South African Brett Bailey, the show is inspired by the 19th-century phenomenon of "human zoos", where African tribespeople would stand on display for European audiences to look at.
In Exhibit B, spectators walk through a room in which black actors are displayed on plinths, some semi-naked, but the tableaux vivants they stand in depict the evils of the colonial era, including four singing "severed" heads. There are also exhibits depicting modern-day asylum-seekers, with the refugees described as in the accompanying text as "found objects".
Afterwards, the audience are led into a room where they can write down their responses to the work. There are also cards with text written by the actors in the show, describing their experiences of modern-day racism.